RESOURCES
OTHER PET
ASSISTANCE
RESOURCES AND ALTERNATIVES
Rehoming Your Pet
Voices of Change Animal League is a non-profit animal welfare organization that is focused on solving the homeless pet problem in our community. One of our programs is rescue and adoption for cats and dogs. Our rescue efforts are focused on animals in need in Marion County only. Currently, there are so many homeless pets in Marion County we feel strongly about only intaking pets from within our county. We receive multiple surrender requests each week for animals. Please note that filling out our intake request form does not guarantee that we can take your cat or dog. Someone from our team will contact you if we are able to accept your cat or dog. Intaking an animal is something we try to do only when absolutely necessary and after all other options have been exhausted. At the end of the day, our main goal is to keep animals in their homes and out of shelters/rescues by offering additional resources and alternatives to surrender. Often times, people think they have no other choice but to rehome/surrender their pet, but sometimes with just a little effort, your decision to keep your pet, or even hold on to your pet for a few weeks, could mean the difference between life and death for them.

Here are some things to consider...
IF YOU CAN ANSWER "YES" TO ANY OF THE QUESTIONS BELOW, PLEASE TAKE THE TIME TO EXPLORE THOSE OPTIONS BEFORE DECIDING IF YOU NEED TO SURRENDER YOUR CAT OR DOG TO VOCAL.
Does your cat or dog need training? Does your dog dig under your fence? Has your cat stopped using the litter pan? Talking to a trainer or behaviorist may help solve your problem. Sometimes making minor adjustments to your home can be an easy and affordable fix and helps keep your pet in your home. Send us an email at info@vocalforpets.org and we would be happy to suggest a trainer or behaviorist within Marion County who can likely help you alleviate your pets current issues.
If so, have you contacted them? If he or she is reputable, you would have signed a contract at the time you purchased your pet, stipulating that the cat or dog should be returned if you decide to no longer keep them. Please contact your breeder first before contacting us.
Are you getting married, having a baby, or moving? Did you start a new job with longer hours? Often times, major life changes make people think that their pets won't adapt, or that they would be better off in a different home. Here's the truth: your dog or cat will likely adjust to your new life and your new schedule just fine. The sad reality is that with our community flooded with so many homeless pets, it could take weeks, months, or sometimes even years for a rescue group or shelter to find your pet a new home.
Our pet food bank, Project Feed, offers free pet food for cats and dogs in Marion County. We want to ease the financial burden of owning a pet for owners experiencing financial difficulty. We know people love their pets and we want to do everything we can to keep pets in their homes with the people who love them. We also offer low-cost veterinary care for cats and dogs in Marion County. Providing these services at a price point that is more attainable is our goal to help more owners afford routine care for their animals. We also offer Medical Financial Assistance for pets who need immediate care and their owners are unable to afford services.
Is your current living situation not allowing you to keep your pet? Are you in search of pet-friendly housing? Click here to search for friendly rentals in your area. We hope this resource is helpful and allows you to find a place to live that is friendly for you and your pet.
Is your animal spayed and neutered? Do you have a flexible timeline for rehoming? If so, we recommend utilizing Rehome by Adopt-a-Pet.com (https://rehome.adoptapet.com/) Adopt-a-pet has created this portal specifically for owners to use to rehome their animals. This portal has the same functionality that we use as a rescue on their website but now they have brought their platform directly to individuals. Using Adopt-a-Pet Rehome is a safe, no cost way to rehome your animal. Below are some things to consider when rehoming on your own.
Never list your pet online for free.  Dog fighters and animal abusers often look for free animals as easy targets. Even a small rehoming fee deters people with bad intentions.
Ask for vet references, and perform a home visit with the potential adopter to ensure your pet will be kept in a safe environment.
Trust your instincts.  If something doesn't feel right, don't give the person your pet.
If so, have you contacted the organization? Many shelters and rescues ask that you return the animal to them if you are no longer able to keep him/her. Most have this stipulated in the adoption contract you signed with them. Before looking further, double check with the rescue or shelter.
We hope you were able to answer yes to some of the above questions and were able to solve your problem. But, if you haven't found any solutions after carefully considering the information above, you can submit our intake request form. Please be aware that our rescue program relies on volunteers/fosters and is completely funded by donations therefore our resources are limited. All of our cats live in foster homes so we are only able to intake when space is available. Majority of our dogs also live in foster homes but some are residents at our kennel property which is consistently at capacity. Due to capacity restrictions, we may not be able to readily intake your animal, but we do review all requests. We receive many applications each week and only reply to those we can take. Our goal is to reply within one week.

Thank you for taking the time to review our information and better understand our rescue program. We realize rehoming your pet is a difficult decision and we wish you all the best.
RESOURCES AND ALTERNATIVES
Local Rescues & Shelters
Are you looking for rescue and shelter resources within Marion County for your pet? We always want to focus on trying to help keep pets in their homes and out of shelters before discussing intake or surrendering a cat or dog. Unfortunately, we know sometimes there are circumstances that prohibit our outreach programs and shelter diversion tactics from keeping the pet in their home. Below is a list of local rescues and shelters with contact information. Each group's contact information and program highlights are listed.
VOCAL of Change Animal League (VOCAL)
(352) 289-0800
VOCAL intakes animals based on availability and temperament
VOCAL is a private, non-profit organization funded by donations
Outreach programs focused on keeping pets out of shelters

Spay Neuter Assistance: Fix the Future Fund
Trap Neuter Return Program
Pet Food Bank: Project FEED
Marion County Animal Services (MCAS)
(352) 671-8700
www.marionfl.org/home-animalservices
All animals picked up by Animal Control are taken to MCAS.
MCAS is operated by our county and funded by tax-payer dollars.
MCAS is transitioning into a no-kill shelter facility.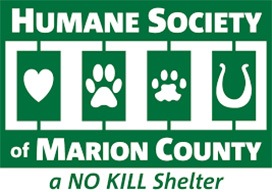 Humane Society of Marion County (HSMC)
(352) 873-7387
HSMC intakes animals based on staff evaluations and does intake by appointment.
HSMC is a private, non-profit organization funded by donations.
HSMC is a no-kill shelter facility.
Sheltering Hands
(352) 840-0663
Sheltering Hands is a private, non-profit organization
Sheltering Hands focuses on feral and homeless cats in our community.
Spay-neuter services for feral and owned cats
Cat rescue and adoptions
SPCA of Marion County
(352) 362-0985
www.spcaofmarioncounty.weebly.com/
SPCA is a private, non-profit organization
SPCA is foster based, and takes in animals based on foster availability
Medical grant to assist pet parents in need of financial assistance.
We know the homeless pet problem in our community is large and will require all of the above groups to work together collaboratively to achieve our vision of ending pet homelessness and having shelters/rescues exist only as safe havens for extraordinary circumstances. Until then, we will continue to work together with groups in our community toward the common goal of helping animals.
STAY IN THE KNOW
Sign Up for Our Newsletter