COMMUNITY CLINIC
LOW COST PROCEDURES
& RESOURCE CENTER
SERVICES
High Quality Spay/Neuter
The VOCAL Community Clinic & Resource Center offers low-cost, high quality spay/neuter surgery for dogs, cats and feral cats. All surgeries are performed by licensed veterinarians who are assisted by our trained vet technicians and support staff.

All spay/neuters include an exam by a veterinarian, an e-collar (dogs ONLY) and pain medication.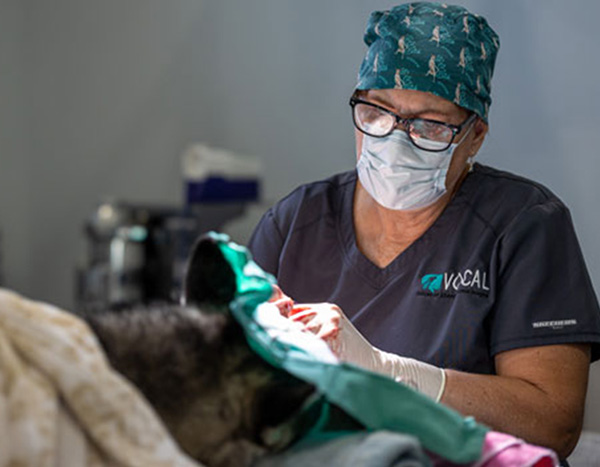 Please note we require a $20 deposit for all spay/neuter appointments. This is necessary because no-shows create issues with our carefully-planned surgery schedule. This results in our clients having to wait unacceptably long times to get their animal an appointment for surgery. We hope that a deposit will encourage people to show up for their appointment. The deposit will be credited to your account and applied towards the animal's surgery when you keep your appointment.
Rapscallion S/N Grant
Vaccine Clinics
Are your pets in need of updated vaccines, puppy or kitten vaccines, heartworm or flea prevention? We offer monthly drive-thru shot clinics and sell prevention at a discounted price to our clients.
Low-Cost Procedures and Specialty Surgeries
If your animals need surgery and you cannot afford the price your veterinarian quoted you, we may be able to help! In addition to spay/neuter we also currently offer a variety of low-cost procedures & specialty surgeries for the public at our clinic. Our clinic accepts cash, all major credit cards and we also offer payment plan options through Scratchpay. Please click the button below to visit Scratchpay and learn more.
If you are having an issue with free roaming cats and need assistance trapping and fixing them, check out the TNR program at our clinic.
Additionally, we are working with rescue organizations to provide low-cost spay & neuter and additional services to our rescue partners!
IF YOU ARE A 501(C)E ORGANIZATION THAT IS INTERESTED IN WORKING WITH OUR CLINIC, PLEASE EMAIL CLINIC@VOCALFORPETS.ORG
STAY IN THE KNOW
Sign Up for Our Newsletter