November 18, 2015
Join VOCAL for Its First Annual FurBall!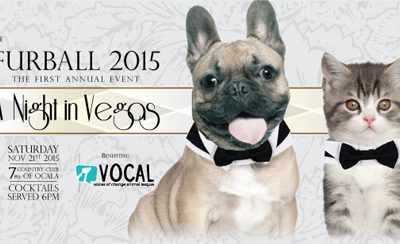 Do you love animals? Have you been searching for a way to help the homeless pets in your community? If you said yes to either of these questions, VOCAL cordially invites you to its first annual FurBall event, featuring the theme "A Night in Vegas."
The event, which will take place Saturday, Nov. 21 at the Country Club of Ocala, will begin at 7 p.m. but cocktails will be served at 6 p.m. Tickets for FurBall are $125 each and all the proceeds raised through these tickets will go directly toward opening a low-cost spay and neuter clinic in Marion County.
What Can You Expect at FurBall 2015?
A night to remember, of course! But to give you a few specifics, to follow the event's theme we'll have casino games and a cash bar. You can also expect a silent auction, raffles, appetizers and an introduction to VOCAL and its mission. The FurBall is black tie optional, so come dressed to impress!
If you live in Ocala or Marion County and wish to help homeless animals, we invite you to this event for a night of fun. To purchase tickets, please call us at 352-289-0800 or email us at info@vocalforpets.org.
STAY IN THE KNOW
Sign Up for Our Newsletter